SOTOZEN.COM > Practice > Food as Practice > Recipes > Eggplants and fresh Myoga Ginger tossed with green Shiso
Eggplants and fresh Myoga Ginger tossed with green Shiso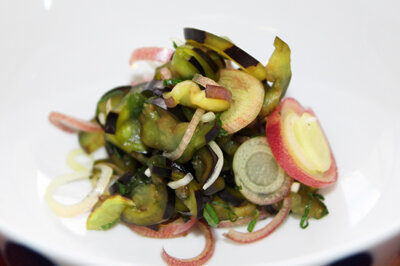 Ingredients (serves 4)
4 or 5 Japanese eggplants
5 or 6 myoga ginger buds
5 or 6 fresh green shiso leaves
2 Tbsp. soy sauce
1/8 tsp. salt
Instructions
Peel eggplants partially to leave lengthwise strips of peel alternating with strips of flesh. Cut lengthwise into quarters and slice thinly. Place slices in salted water, and let sit for about 1 hour. Drain in a colander.
Slice myoga into rounds, soak in a bowl of water for 2 to 3 minutes, then drain in a colander.
Chop the green shiso leaves into fine strips.
Mix the drained eggplant slices, myoga slices and chopped green shiso leaves. Season with soy sauce to taste.

Recipe (PDF 130KB)