SOTOZEN.COM > Practice > Food as Practice > Recipes > Mushroom Fettuccine
Mushroom Fettuccine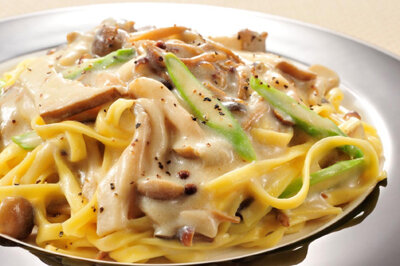 Ingredients (serves 2)
50g Shimeji mushrooms
100g Eryngii mushrooms
50g Asparagus
15ml Olive oil
30ml White wine
15ml Light-colored soy sauce
Salt, to taste
200ml Soymilk
300g Pasta
10ml Starch
20ml Water
Instructions
Cut the shimeji and eryngii into bite-size pieces. (Shiitake or other types of mushrooms may be substituted.)
Cut the asparagus diagonally.
Boil the pasta.
Spread the olive oil in a frying pan, and stir-fry the mushrooms and asparagus. When they are coated with oil, add the white wine, soy sauce, and salt. Cook for about one minute, then add the soymilk. When it boils add the starch, dissolved in water. Mix for about 15 seconds to thicken.
Place the pasta in a dish, and pour the sauce mixture over it. Add black pepper to taste.

Recipe (PDF 133KB)