SOTOZEN.COM > What's Sotoshu? > Head Temples
Head Temples
Daihonzan Eiheiji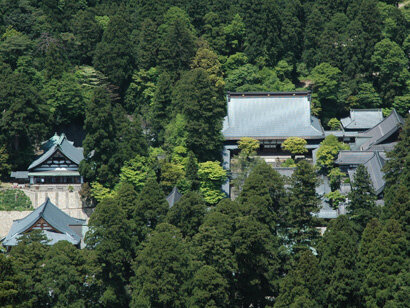 Daihonzan Eiheiji was founded in 1244 CE by Koso Dogen Zenji. Originally, the temple was named Sanshoho Daibutsuji, but was later renamed as Kichijozan Eiheiji. Eiheiji was built through the great mind of Dogen Zenji, who endeavored to create a principal practice center where the teaching of Shakyamuni Buddha would be correctly transmitted and where the Way of Buddha, which is the source of people's eternal peace and happiness, would be practiced. Eiheiji is proud of its 750 year-old tradition where even today more than 200 monks strive at Zen practice through night and day. Eiheiji is surrounded by ancient Japanese cedars and the sounds of murmuring streams. Visitors are struck by the profound nature of Zen and naturally straighten up when they arrive there.
Shihi, Eiheiji-cho, Yoshida-gun, Fukui Prefecture 910-1228, Japan
Tel. +81-776-63-3102
Minamisawa Donin Zenji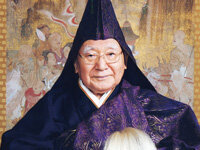 Head Priest of Eiheiji
Born in Nagano in 1927
Positions held: Assistant Head Priest of Eiheiji, Sotoshu Councilor, Congressional Representatives of Sotoshu, Head Priest of Chuoji in Hokkaido Prefecture, Head Priest of Sotoshu.
Daihonzan Sojiji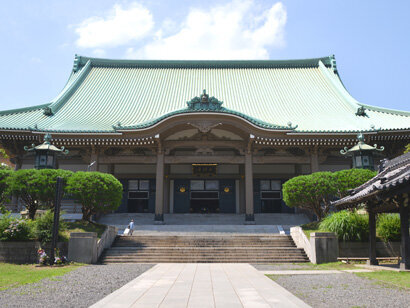 Daihonzan Sojiji was founded in 1321 CE when Taiso Keizan Zenji renamed the already existing temple Morookaji in Ishikawa Prefecture as Shogaku-zan Sojiji. During the Meiji Period (late 19th century) when the original temple was lost to fire, Sojiji was moved to Yokohama, where it is still located today. Sojiji is proud to be one of the main dojos of international Zen and is located in Yokohama, known as Japan's gateway to the sea. The temple complex is extensive and the massive size of the temple buildings is impressive. Sojiji is an open practice center where the teaching of Keizan Zenji is truly practiced in its original form. Also, because of Sojiji is located in such a convenient place it also has been able to hold various training sessions for company employees, zazen groups, and other community outreach programs. Sojiji has also continued Keizan Zenji's commitment to education by establishing a school on the temple grounds called Soji Gakuen.
2-1-1, Tsurumi, Tsurumi-ku, Yokohama-shi Kanagawa Prefecture 230-0063, Japan
Tel. +81-45-581-6021
Ishizuki Shuko Zenji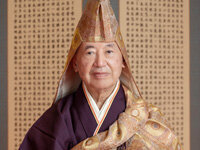 Head Priest of Sojiji
Born in 1937
Positions held: Assistant Head Priest of Sojiji, Congressional Representatives of Sotoshu, Director of Mission Division of Sotoshu Shumucho, Head Priest of Saijoji in Kanagawa Prefecture, Resident Priest of Sorinji in Gunma Prefecture.