A Message from the Head Priest of Sotoshu in 2023
Every year the Head priest of Sotoshu gives an official message, we have translated this years one for you.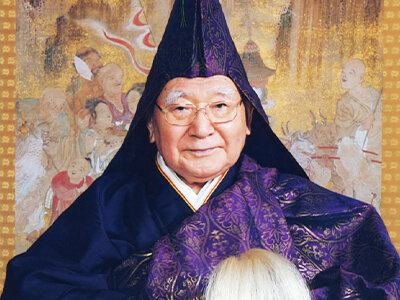 We are now faced with many difficulties and uncertainties, and our way of life is being questioned.
The global spread of the novel coronavirus has resulted in the loss of many precious lives, and people are in deep turmoil. International conflicts and civil wars, social problems such as poverty, discrimination, inequality, bullying, and incidents that take lives, as well as natural disasters and global environmental changes that have been occurring frequently in recent years, have brought about a crisis of survival for us all.
What kind of way of life should we, who live by the teachings of the "One Buddha and Two Founders," strive for ?
The Buddha taught us to live with wisdom and compassion. Wisdom is the ability to realize the truth of life, which is animated by all things. Compassion is the ability to eliminate suffering and lead people to peace of mind with a heart of infinite empathy. With wisdom and compassion, we can be tolerant and accept each other's different standpoints.
Keizan Zenji taught us to accept the sorrows and sufferings of others as if they were our own, and to live in harmony with one another.
This year, let us continue to deepen our human relationships by sharing, supporting, and caring for one another, with "Cooperation", one of the "Bodhisattva's Four Embracing Actions."
Dogen Zenji stated, "Although this Dharma is abundantly present in each person, it isn't manifested without practice." In this way, he admonished us to carefully apply his teachings to our daily lives.
Let us all join hands with the Buddha and proceed with the practice of a Bodhisattva by being familiar with zazen and praying together to live peacefully so that no one in the world is left behind.
Finally, in the coming year, Memorial Ceremony for the 700th Anniversary of Daihonzan Sojiji's Founder, Taiso Keizan Jokin Zenji, will be celebrated. I hope that you will appreciate this precious opportunity to experience this Dharma connection, and that you will deepen your faith together with us.
Homage to Shakyamuni Buddha
Homage to the Great Ancestor Joyo Daishi Dogen Zenji
Homage to the Eminent Ancestor Josai Daishi Keizan Zenji
Gassho.
1 April 2023
Rev. Shuko Ishizuki
Head Priest of the Sotoshu