ZenDo Tokyo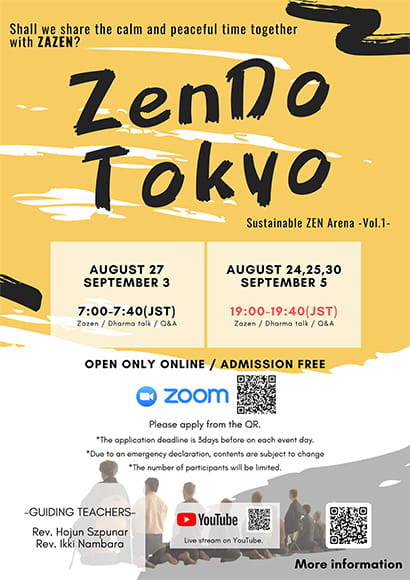 In the mornings of during Tokyo 2020 Olympic and Paralympic Games, we will hold Zazen class online in English called "ZenDo Tokyo".
We usually hold a ZEN class every month, but we have set classes during this summer for everyone to get chances to experience zazen.
Doing sit Zazen makes your body and mind harmonized.
Shall we sit Zazen together at the start of the day ?
We look forward to seeing you all !
Date
July 23, 26, 28, 30
August 2, 4, 6, 8, 24, 25, 27,30
September 3, 5
Time
7:00-7:40am (JST)
Contents
Zazen (About 15min), Dharma talk and Q&A
How to join

Advance reservation is required.
Please apply from the link below.
(The application deadline is 3days before on each event day.)

Fee
Free
*Due to an emergency declaration, contents are subject to change.

This event will be stream live on YouTube.