SOTOZEN.COM > Practice > Food as Practice > Recipes > Steamed Eggplants and Snow Peas
Steamed Eggplants and Snow Peas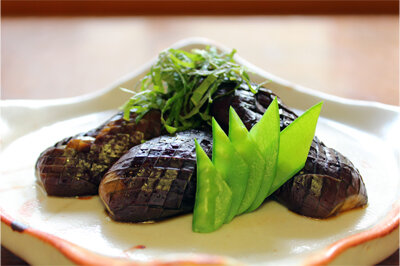 Ingredients (serves 4)
8 medium Japanese eggplants
12 fresh snow pea pods
400 cc. (13 1/2oz. or 1 5/8cups) soy sauce
8 Tbsp. sugar
1 Tbsp. salt
4 fresh green shiso (perilla) leaves (or basil if unavailable)
(45g. or 1 1/2oz. fresh ginger)
Instructions
Halve the eggplants lengthwise (quarter if the eggplants are large). Cut shallow, 5mm. (¼ inch) diagonal slits on the skin. (see photo)
Halve the snow peas diagonally.
Steam the cut eggplants and snow peas in a steamer for about 10 minutes.
While steaming, mix the salt, sugar and soy sauce in a bowl and stir them well.
Cut the shiso (or basil) leaves into 2mm. (1/16 inch) width strips.
Arrange the steamed eggplants and snow peas on a serving dish. Pour the sauce (from step 4) over the eggplants and snow peas. Garnish with the sliced shiso and serve.
(If desired, place grated ginger on the side as a condiment.)

Recipe (PDF 152KB)