SOTOZEN.COM > Practice > Food as Practice > Recipes > Cucumbers tossed with fresh Ginger
Cucumbers tossed with fresh Ginger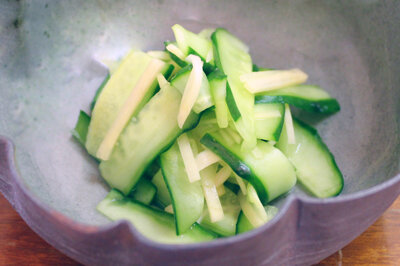 Ingredients (serves 4)
2 Japanese cucumbers (or 2 medium English cucumbers)
90 g. (3 oz.) fresh ginger
1/8 tsp. salt
Instructions
Cut the cucumbers into thin rectangular slices or planks; cut the ginger into fine strips (julienne).
Put the cucumbers and ginger into a bowl, sprinkle with salt, then rub the cucumber and ginger lightly.
Let sit for 10 minutes, then rinse lightly with water. Thoroughly drain and squeeze out excess moisture before serving.

Recipe (PDF 116KB)