SOTOZEN.COM > Practice > Food as Practice > Recipes > Okra and Pickled Plum (Umeboshi) Salad
Okra and Pickled Plum (Umeboshi) Salad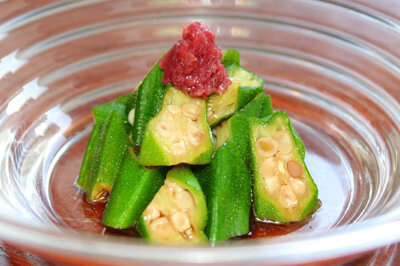 Ingredients (serves 4)
8 small okra pods
2 pickled plums
1 Tbsp. soy sauce
1 tsp. salt
Instructions
Blanch the okra for about 1 minute in boiling water with salt added to it.
Cool the okra under cold running water.
Crush the okra lightly into chunks with a rolling pin or meat mallet (or cut diagonally into wedges while rotating the okra with each cut).
Toss the okra with the soy sauce and arrange on a serving dish.
Remove the pit from the pickled plums and mince into a paste with a knife. Garnish the okra with the pickled plum paste.

Recipe (PDF 135KB)