SOTOZEN.COM > Practice > Food as Practice > Recipes > Flavored Rice cooked with Maitake Mushrooms
Flavored Rice cooked with Maitake Mushrooms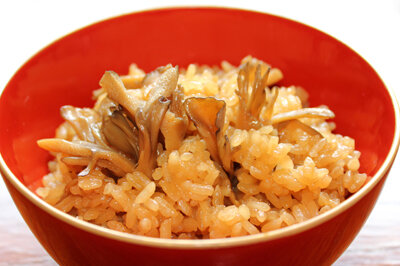 Ingredients (serves 4)
360 cc. (12 oz. or 1 1/2 cups) white rice
500 cc. (17 oz. or 2 1/8 cups) water for cooking the rice
100 g. (3.5 oz.) fresh maitake mushrooms
200 cc. (7 oz. or 7/8 cup) water for cooking the maitake mushrooms
1 tsp. salt
100 cc. (3.4 oz. or slightly less than ½ cup) soy sauce
1 tsp. olive oil
1 Tbsp. sugar
Instructions
Shred the maitake mushrooms into bite-size pieces with your hands. Cook the maitake mushrooms in 200 cc. water seasoned with soy sauce, sugar, salt and oil.
Wash the white rice and drain in a colander while cooking the maitake mushrooms.
When the maitake mushrooms have soaked up the flavor, turn off the heat and take them out of the pot.
Add 500 cc. water to the cooking liquid left in the pot.
Place the drained rice in a rice cooker, pour the liquid from step 4 into the rice cooker, top with the cooked maitake mushrooms, then cook.
Mix well before serving.

Recipe (PDF 142KB)