SOTOZEN.COM > Practice > Food as Practice > Recipes > Aromatic Carrot Salad
Aromatic Carrot Salad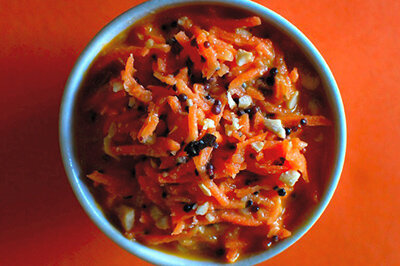 Ingredients (serves 4)
500 g carrots (about 4-5 medium)
1 red or green chilli
1/3 cup (6 tablespoons) full-fat yogurt
1 tablespoons fresh lemon juice Dash sea salt
1 tablespoon oil
2 teaspoons brown, whole mustard seeds
8 curry leaves, dried or fresh
1/4 teaspoon asafoetida powder
1/4 teaspoon ground dried kaffir lime peel
1 tablespoon sugar, or the equivalent in stevia
4 tablespoons chopped peanuts or cashews
4 tablespoons blue raisins
Instructions
Peel and grate the carrots.
Mince the chilli.
Grind the kaffir lime peel into a powder using a pestle and mortar, or in a dedicated coffee grinder. (Store any surplus in an airtight container for next time.)
Combine the yogurt, lemon juice, and salt.
Heat the oil in a frying pan on low-medium flame. Stir in the mustard seeds, chilli and curry leaves. Cover with a splatter guard, stirring now and then, and fry until the mustard seeds stop popping furiously and have turned one shade darker. Stir in the asafoetida powder, ground kaffir lime, and sugar. Take off the heat, leave to cool a few minutes, then mix through the yogurt.
Combine the spiced yogurt with the grated carrots, chopped peanuts and raisins.
Leave the salad to marinate for 30 minutes before serving. It also keeps well in the fridge, covered, for a couple of days.

Recipe (PDF 244KB)