SOTOZEN.COM > Practice > Food as Practice > Recipes > Rice Stuffed Tomatoes
Rice Stuffed Tomatoes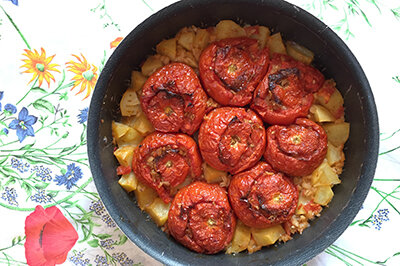 Ingredients (serves 4)
two ripe medium tomatoes per person
half a potato per person
half an onion per person (optional)
gated pecorino cheese (optional)
risotto rice (one teaspoon per tomato)
oregano
basil
olive oil
salt
Instructions
Cut off the very top head of the tomato horizontally, and put it aside. Empty the tomatoes into a bowl, add a little salt inside of the tomato shells and put them into a baking tray.
Mix the cut up pulp together with oregano, chopped up basil, salt and olive oil. Put a teaspoon of rice into every tomato shell, then pour the tomato pulp mix in each one, mixing well. If desidered, add a taspoon of greated pecorino cheese into every tomato. Put the tomato tops back on.
Chop up the peeled potatos and, if desidered, the onions, and lay them around the tomatos, with a pinch of salt and some olive oil.
Bake for around 1 hour at 180°C.
Serve lukewarm.
Good also the day after.

Recipe (PDF 332KB)