SOTOZEN.COM > Practice > Food as Practice > Recipes > Tofu stuffed eggplants
Tofu stuffed eggplants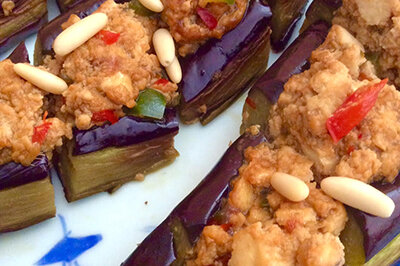 Ingredients (serves 4)
2 Medium size longeggplant
2 tsp sesame oil
80gr Tofu
1/2 clove ginger, peeled and chopped finely
A pinch of dried red chili peppers
4 TBS Sweet bell peppers (red and yellow), chopped finely
Seasonings (mix the following in a small bowl):
1/2 TBS Red Miso
1 TBS Soy sauce
1 TBS Water
1 TBS Sake
1 tsp Potato starch dissolved in 1 TBS water
100ml Water
Garnished (optional):
Pine nuts for garnishing
And / or
Shredded red chili pepper
Instructions
Wash eggplants, peel off the skin longitudinally, about 1.5cm apart, creating a striped pattern. Soak in salted water for half an hour, rinse and pat dry.
In a skillet, heat sesame oil and fry eggplant untillightly golden and somewhat tender. Set aside.
Using kitchen paper, eliminate excess water from Tofu. Finely chop or crumble it with hands.
Heat some vegetable oil in a skillet and fryminced ginger and a tiny pinch of dried red chili pepper for about 20 seconds. Add finely chopped sweet bell pepper and tofu and saute.
Pour in the seasoning mixture (miso, sake, soy sauce and water) and mix well. At the end, pour the potato starch dissolved in water to thicken the tofu stuffing.
Make a vertical incision on the eggplant, open it and fill with tofu stuffing.
Place stuffed tofu in a skillet, add water, cover the skillet and steam cook.
When the water is evaporated and eggplants are tender, take them out of the skillet. Cut into bite-sizes, sprinkle with pine nuts or shredded red chili peppers (optional).

Recipe (PDF 258KB)