SOTOZEN.COM > Practice > Food as Practice > Recipes > Tofu Steak
Tofu Steak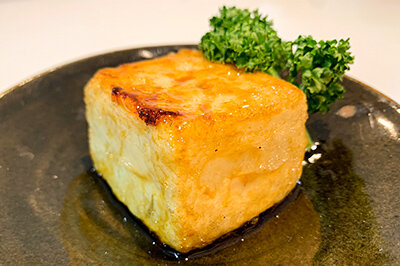 Ingredients (serves 2)
1 package tofu (firm or harder)
potato starch (as needed)
1 Tbsp. sesame oil (1/2 oz.)
4 Tbsp. mirin (sweet sake) (2 oz. or 1/4cup)
2 Tbsp. soy sauce (1 oz.)
Instructions
Cut tofu into 4 pieces.
Wipe off the water from the tofu with paper towel.
Coat the tofu with potato starch.
Heat the sesame oil in a pan and sear the tofu until browned on all sides. Add mirin and soy sauce to the pan and boil down. Garnish the tofu with parsley to serve.

Recipe (PDF 244KB)