SOTOZEN.COM > Practice > Food as Practice > Recipes > Ganmodoki - Deep Fried Tofu Patties -
Ganmodoki - Deep Fried Tofu Patties -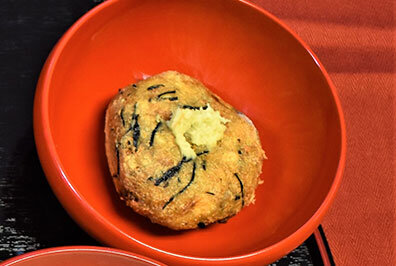 Ingredients (serves 3)
1 package firm Tofu
Carrot - half of one carrot
1 Tbsp. dried hijiki-seaweed
3-4 string beans chopped (or some shelled edamame)
2-3 Tbsp. of potato starch (or tapioca starch)
1 Tsp. salt
Oil
Instructions
Wrap Tofu with a paper towel and put some weight on top for an hour to drain water. While waiting, roughly grate carrot. Soak hijiki-seaweed in 1/2 cup water.
Squeeze excess water from the tofu and in a mixing bowl knead it well for smooth texture. Also, add salt and starch. Squeeze excess water from the carrot and previously soaked hijiki and mix them in to the tofu mixture.
Heat the oil to medium about 150C/350F.
Make the patties and slowly put them in the oil.
*Do not put too many at once as the temperature of the oil goes down.
*Start with low heat and gradually let the heat rise to a higher temperature.
*If the oil is too hot, the patties will burst.
*Do not touch the patties in the oil for a while until the surface is pretty much cooked.
Serve and enjoy with salt, shoyu (soy sauce), shoyu with dashi broth, or plain. Add some grated daikon (radish), grated ginger, chili for more flavor.

Recipe (PDF 1.2MB)