Ajiaco -with Oyster Mushrooms-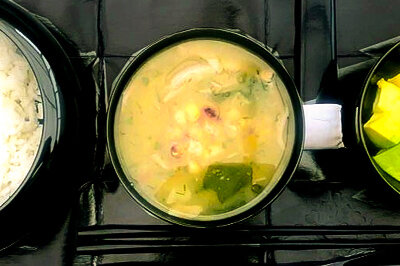 Ingredients (serves 3)
150g oyster mushrooms
1 soft ear of corn (corn on the cob)
75g capers
300g "Sabana" potatoes (hard potatoes)
300g "Criolla" potatoes (small yellow potatoes)
300g "Pasto" potatoes (softer than "Sabana" harder than criolla)
1/3 guascas (local herb)
1/3 bunch of fresh coriander
60g fresh cream (almond milk)
A pinch of salt and pepper
1 avocado
Instructions
Bring a pot of water to a boil. Add 1 Tbsp of salt.
Slice the oyster mushrooms and ear of corn into three pieces, then place in the salted hot water.
When they are tender, remove them.
Also, remove husk from corn, and set aside.
Peel all potatoes, cut into 1cm wide rounds and place in the boiling water.
When the potatoes have melted, add the guasca leaves (or substitute herb), chopped coriander, sliced oyster mushrooms, and peeled corn on the cob.
Add salt and pepper, capers and fresh cream.
Cut avocado into 2 cm wide cubes and serve separately.

Recipe (PDF 2.3MB)