SOTOZEN.COM > Practice > Food as Practice > Recipes > Simmered Pumpkin
Simmered Pumpkin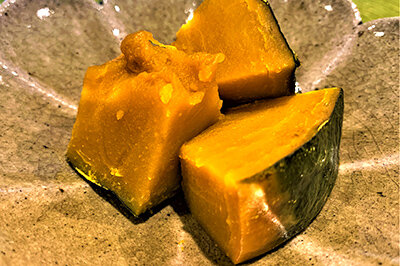 Ingredients (serves 2)
Simmered Pumpkin
1/4 pumpkin
100cc. (3 1/3 oz. or 2/5 cups) water
1 Tbsp. soy sauce(1/2 oz.)
1 Tbsp. sugar(1/2 oz.)
1 Tbsp. mirin (sweet sake)(1/2 oz.)
※Use sugar + white wine(1 + 1) as sweet sake
Instructions
Remove the seeds from the pumpkin and cut into bite size pieces.
Put the pumpkin, water and all the seasonings in a pot.
Cover with a drop lid and place over medium heat.
(This will saturate the pumpkin with minimum amount of broth and cook it evenly.)
※If you do not have a drop lid, which sits directly on the food, you can substitute with aluminum foil or paper towel cut into the size of inner pan.
Simmer until the pumpkin is tender and ready to serve.

Recipe (PDF 1.3MB)