SOTOZEN.COM > Practice > Food as Practice > Recipes > Purple Potato Dumplings with Coconut Sauce
Purple Potato Dumplings with Coconut Sauce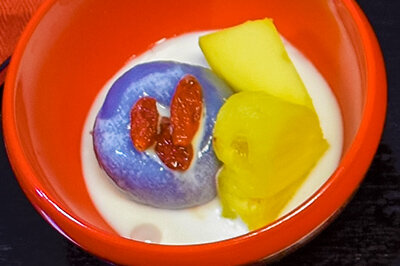 Ingredients (serves 2)
160g mochiko (sweet rice flour)
50g purple potato
120g water (add more if needed)
2 Tbsp. sugar
1/2 cup coconut milk
Instructions
Mash and strain the boiled potatoes, and add the potatoes to the mixture of mochiko (or rice flour) and water.
Add more water and potatoes, and knead the dough until the right consistency so that you can roll them in your hand.
Put the dumplings into boiling water.
Boil until the dumplings float to the surface, then remove and cool in cold water.
"Coconut sauce"
In a saucepan over medium heat, whisk together the coconut milk and sugar well and stirring as the sauce warms. As soon as the sauce starts to bubble, turn off the heat.

Recipe (PDF 952KB)