SOTOZEN.COM > Practice > Food as Practice > Recipes > Italian Butter Bean Stew
Italian Butter Bean Stew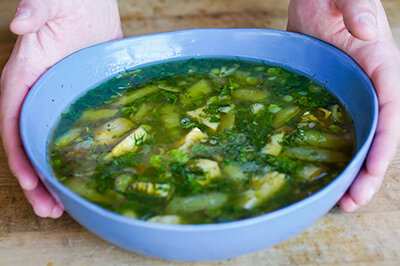 Ingredients (serves 2)
2 cups dry cannellini (or other white bean)
6 cups water
1/2 cup uncooked farro verde or freekeh (any other grain works well here too)
1/4 cup extra virgin olive oil
1/4 cup dry white wine
1 cup snap peas
1/2 cup fresh english peas, shucked (frozen will work as a substitute if necessary)
1 Tbsp dill, chopped
1 Tbsp mint, chopped
Instructions
Soak the cannellini beans in the water overnight.
Once soaked, add the beans to a large sauce pot and cook until tender, about 1-1.5 hours. Once cooked, set aside with the cooking water. Do not strain. Fill a small sauce pot with water and bring to a boil. Cook the farro verde like pasta, until tender. Once cooked, strain well and rinse with cold water to stop the cooking. Set aside.
Add 1/4 cup of olive oil to a stock pot.
Add the shallot and cook until fragrant and starting to turn translucent, 3-5 minutes.
Add the white wine and reduce until nearly dry.
Then add the snap peas, english peas, the butter beans and the bean broth. Bring to a simmer and cook until the snap peas are tender. If the stew looks quite dry, add a bit of vegetable stock.
Add salt to taste.
Finish with the dill and mint right before serving.

Recipe (PDF 950KB)