SOTOZEN.COM > Practice > Food as Practice > Recipes > Baião de dois
Baião de dois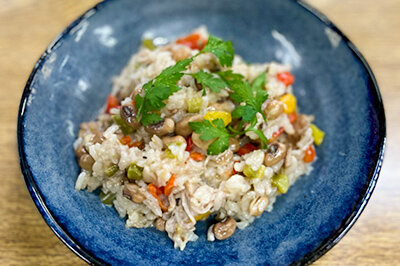 Ingredients (serves 2)
Red bell pepper … 1/2
Yellow bell pepper … 1/2
Green bell pepper … 1/2
※Remove seeds and stem, cut into 1/2" - 3/4" squares
Parsley … appropriate amount, to your taste
Jack fruit … 100g (soy meat substitute can be used instead)
White rice … 1 cup
Fejon beans … 1 cup (Kintoki beans can be used as a substitute)
Soy sauce … appropriate amount, to taste
Salt … appropriate amount, to taste
Pepper … appropriate amount, to taste
Olive oil … appropriate amount, to taste
Instructions
Cover the beans with water and soak overnight. Drain.
Tear off the fruit of jack fruit by hand, lightly sprinkle with soy sauce until the fruit is colored, and bake in the oven at 350°F until it is slightly browned. (about 15 minutes)
Cut bell peppers and fry in olive oil until slights softened. Season with salt and pepper to taste.
Stir in white rice and add a little more than 1 cup of water.
Stir in the beans, the roasted jack fruit, and the fried peppers, stir lightly, add an appropriate amount of salt, put in a rice cooker, and cook for usual time.
After cooking, mix lightly.
Sprinkle with chopped parsley, and serve on a plate.

Recipe (PDF 1.3MB)