SOTOZEN.COM > Practice > Food as Practice > Recipes > Cauliflower Coconut Cream Karma Korma
Cauliflower Coconut Cream Karma Korma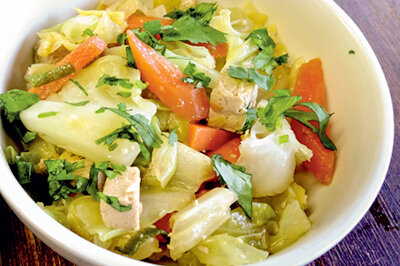 Ingredients (serves 3)
1 small cauliflower
1 red bell pepper
1 medium-sized red onion
40g (4 tablespoons) fresh ginger
3 cloves garlic
25-30 green cardamom pods, or 1 1/2 -2 teaspoons ground cardomom
400ml (1 3/4 cups) coconut milk
400ml (1 3/4 cups) water
175g (1 1/4 cups) cashew nuts
Pinch of cayenne pepper, to taste 250g (1 1/2 cups) cooked chickpeas.
rinsed and drained (about one can)
3 tablespoons black raisins
3-4 bay leaves
Oil for frying
Instructions
Cut the cauliflower into 1. bite-sized florets.
Deseed and slice the red pepper into triangular wedges.
Peel and slice the onions into moon-shaped wedges, cutting along the grain.
Peel and mince the ginger and garlic.
Grind the whole cardamom pods in a pestle and mortar until the hulls fall off and the seeds are coarsely ground. Remove the hulls.If you don't have whold seeds, use ground cardomom instead.
Blend the coconut milk, cashew nuts and water until smooth and creamy. Set aside.
Heat some oil in a stew pot on medium flame. Add and stirfry the red pepper and red onions until they are caramelized on the edges, about 8 minutes. Remove from the stew pot and set aside.
In the same stew pot and using the same oil, add the ginger and garlic together with the cardamom seeds.
Stir-fry for about one minute.
Pour in the cashew nut and coocnut sauce. Add the cooked chickpeas, raisins, bay leaves, and a little cay-enne pepper.
Turn down the heat to the lowest setting and simmer gently, covered, for 10 minutes or more, stirring often to prevent sticking.
Add the cooked red pepper and red onion. Salt to taste.
Bring a large pot of salted water to a boil and quickly drop in the cauliflower. On a high flame, bring back to a boil, simmer one minute or until crispy tender, and then scoop out with a slotted spoon. Put the cooked cauliflower in a colander to drip dry.
Add the cauliflower to the cashew nut sauce.
Serve with white or brown rice cooked with turmeric, raisins and bay leaves.
Goes well with fresh coriander and Indian chutney.

Recipe (PDF 1.2MB)