SOTOZEN.COM > Practice > Food as Practice > Oryoki > Bowl Raising Verse
Oryoki
Bowl Raising Verse
Next, using both hands raise main bowl and chant the following verse:
First, this is for the Three Treasures;
next, for the four benefactors,
finally, for the beings in the six realms.
May all be equally nourished.
The first portion is to end all evil;
the second is to cultivate all good,
the third is to free all beings.
May everyone realize the Buddha Way.
上分三宝

jo bun san bo

中分四恩

chu bun shion

下及六道

gekyū roku do

皆同供養

kai do kuyō

一口為断一切悪

ik-ku idan is-sai aku

二口為修一切善

niku ishu is-sai zen

三口為度諸衆生

sanku ido shoshu jo

皆共成仏道

kaigu jo butsu do
Prior to chanting this verse, take chopsticks in right hand and place them on top of first nested bowl (soup) with tips facing toward oneself.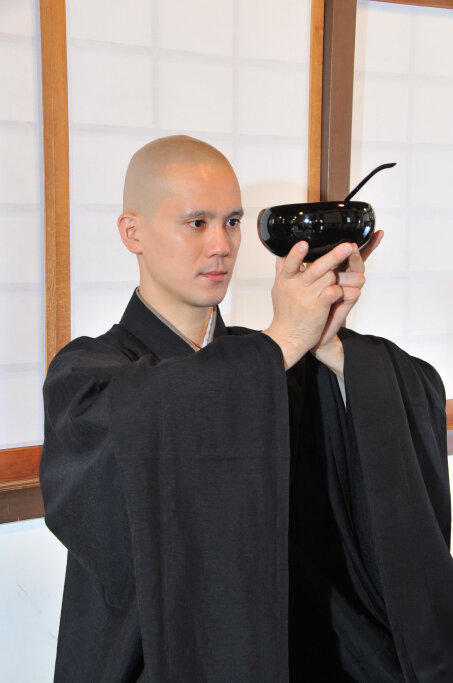 When Bowl Raising Verse is finished, without putting down main bowl, lower head and then immediately begin to eat. For eating, spoon is used for rice gruel; for all other food, chopsticks are used; when eating from any vessel whatsoever, the proper procedure is to hold it in the other hand.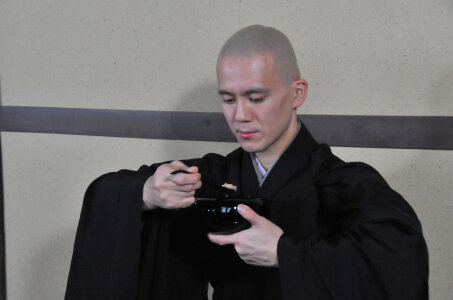 Servers prepare second serving (second helpings). Busboys enter hall carrying wiping cloths, pick up spilled food, wipe off any soiled places on platform edge, leave hall. When second serving is finished, they do the same.
Meal-announcing assistant, upon observing that monks of great assembly have finished eating, calls out "Second serving." Servers serve food a second time.
At main meal time, when meal-announcing assistant sees that servers have exited hall, he/she calls out "Collecting food offering for spirits." Servers gather up rice offering for spirits. (When servers come, press down on swab with finger, making it easier for them to remove rice grains.)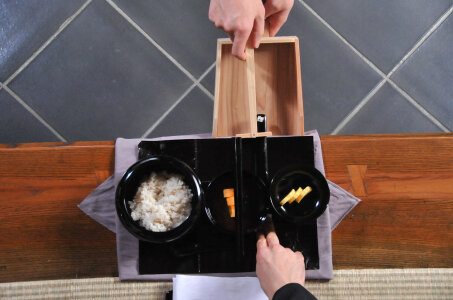 When meal-announcing assistant sees that great assembly has finished eating and set down spoons and chopsticks, at breakfast he/she calls out, "Pure water." If it is main meal time, he/she first calls out "fragrant decoction" (tea) then "pure water" (hot water). Servers distribute fragrant decoction and pure water. (When tea has been consumed, and bowls washed with pure water, dispose of rinse water. When there is soft rice gruel, such as rice decoction, receive pure water in oryoki, then pour everything into first nested bowl and eat it. Receive tea in oryoki, then pour it into first nested bowl and drink it.)