SOTOZEN.COM > Soto Zen Temples > Touring Venerable Temples of Soto Zen Buddhism in Japan > Vol.4 Temple Kasuisai
Temple Kasuisai
The verdant rural area spreading outward from the city of Fukuroi in western Shizuoka Prefecture is famous for muskmelons and tea. Its many Buddhist temples have long been centers of faith and spiritual support for the local people. One of the best known and most popular is the venerable Soto Zen temple Kasuisai.
Kasuisai was founded about 600 years ago. Its name—temple where sleeping is permitted—has this origin. During the confusion of battle, 400 years ago, the monk Senrin Tozen saved the life of the juvenile Tokugawa Ieyasu, founder of the Tokugawa shogunate. Later, invited to a banquet at Hamamatsu Castle by Ieyasu, Senrin Tozen fell asleep. Ieyasu said gently, "kasui," or sleeping is permitted.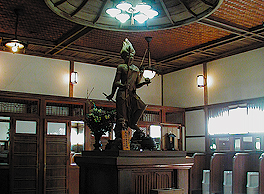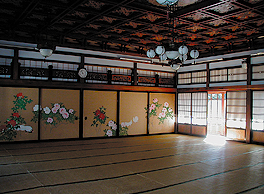 Among the more than 70 buildings gracing the spacious compound are the Zuiryukaku famous for paintings of flowers, especially peonies, on papered sliding doors, and the white-walled Gokokuto in Gandara style. In April and May, cherries, peonies, and azaleas enliven the mood. Many visitors come to enjoy the 5,000 peony plants of 150 varieties in the Peony Garden, open to the public at this season.
"Map" Kasuisai
Location
By Kasuisai-bound bus to the Kasuisai stop from the Fukuroi Station of the Tokaido Main Line.
Address: 2915-1 Kuno, Fukuroi, Shizuoka Prefecture 437-0061, Japan
Phone: +81(538)42-2121
Touring Venerable Temples of Soto Zen Buddhism in Japan