SOTOZEN.COM > Soto Zen Temples > Touring Venerable Temples of Soto Zen Buddhism in Japan > Vol.3 Temple Koshoji
Temple Koshoji
In 1233, after his return from his study mission to China, Dogen Zenji founded the Koshoji, the first Sōtō temple in Fukakusa, just south of the ancient capital Kyoto. During medieval warring, fire destroyed the compound and many priceless scriptures. In 1648, the local ruler Nagai Naomasa rebuilt it at Uji, its present location.
After Dogen Zenji's death, the Koshoji ceased to exist. But the abbot Banan Eishu revived it to serve as a center for the severe and simple style of Zen inherited from Dogen Zenji. During the Edo period (1603-1867), novices from all over Japan came to train at the Koshoji, which, together with the Eiheiji and the Sojiji, cultivated many outstanding monks.
As well as a place of great scenic beauty, Uji, where the Koshoji is located, is famous for its green tea. Immediately inside the temple gate, a slope-called Kotozaka because of its resemblance to the Japanese koto harp-leads gently upward through murmuring streams. Rich stands of favorite Japanese trees-pine, peach, plum, willow, cherry, and maple-enhance the loveliness of the grounds.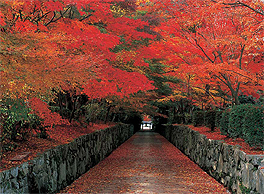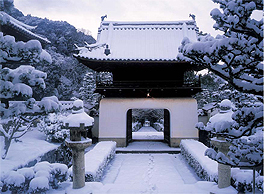 "Map" Koshoji
Location
10 kilometers south of the center of Kyoto. 10 minutes' walk from Uji Station on the Uji Line of the Keihan Electric Railway. 15 minutes' walk from the Uji Station of the JR Nara Line.
Address: 27-1, Uji Yamada, Uji, Kyoto Prefecture 611-0021,Japan
Phone: +81-774-21-2040
Touring Venerable Temples of Soto Zen Buddhism in Japan