Aichi Senmon Niso-do Shoboji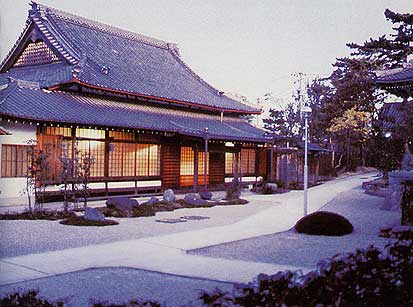 In 1903, the Aichi Senmon Niso-do, a training temple for Soto Zen nuns, was established in the suburbs about 15 kilometers from Nagoya, a huge urban center that was once a castle town. Devoted exclusively to education, the temple was founded by the fervent educator-nun Jorin Mizuno and three of her disciples Mitsujo Hori, Dokai Ando, and Kokan Yamaguchi.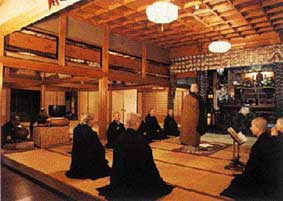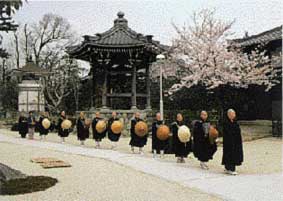 In 1908, the Aichi Senmon Niso-do was moved to a site near the celebrated Nagoya Castle. Thereafter the temple grew steadily, gradually adding Main Hall, Nuns Hall, classrooms, dormitories, kitchen, and lecture hall. Ultimately it accommodated 140 training nuns. All of its buildings burned to the ground in World War II during an air raid on May 14, 1945. In 1947, teaching staff and students rebuilt a dormitory and classroom building at their present locations.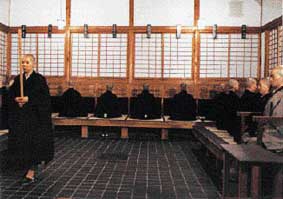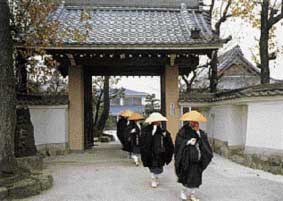 For the reconstruction of the temple, the nun Tokuo Hori donated the temple Shoboji, of which she was in charge. The Nuns Hall was rebuilt in 1951. In the following years, as interest in Zen spread around the world, students from everywhere came to train at the temple. With the cooperation of 15,000 Soto Zen temples throughout Japan, the dilapidated dormitory and kitchen were rebuilt in 1981. By now, the temple has became a nun-training center open to the whole world.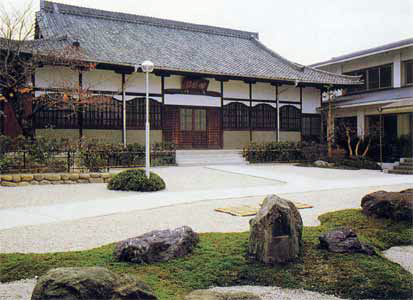 Map" Shoboji
Location
In the eastern part of Nagoya, about 7 kilometers from Nagoya Station. A ten-minute walk from Kakuozan Station on the Higashiyama Line.
Address: 80-1 Shiroyama-cho, Chikusa-ku, Nagoya, Aichi Prefecture 464-0045, Japan
Phone: +81(052)751-2671
Touring Venerable Temples of Soto Zen Buddhism in Japan