SOTOZEN.COM > Soto Zen Temples > Touring Venerable Temples of Soto Zen Buddhism in Japan > Vol.10 Temple Myogonji
Myogonji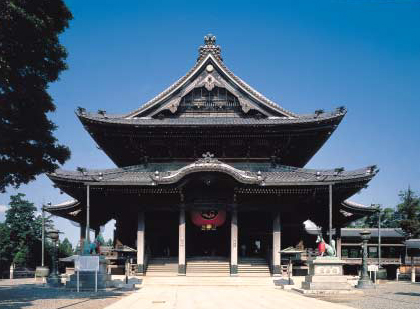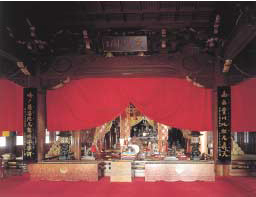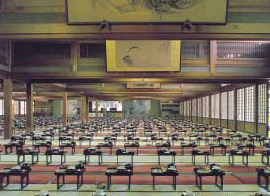 In the Honden adjacent to the Dharma Hall is a statue of the deity Dakini Shinten, with accompanying statues of white foxes, companions of the harvest god Inari (Dakini Shinten). Once when the Kangan Giin Zenji, a disciple of Dogen Zenji and the Dharma ancestor of the founder of Myogonji, was returning from China, Dakini Shinten appeared on the sea astride a white fox with a Fabulous Jewel in his hand and gave him a mantra. Because of this connection with Dakini Shinten or Inari, Myogonji is now known as the Toyokawa Inari.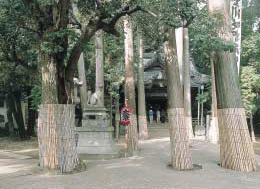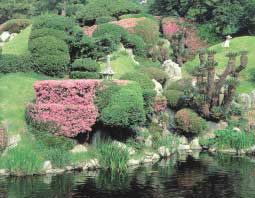 In the Myogonji Garden (designated a national scenic attraction in 1941), old trees provide a background for carefully pruned low shrubs including seasonally flowering azaleas and sasanqua camellias that reflect in a pond where, to the delight of visitors, carp and turtles swim. Large crowds gather at Myogonji for its big spring and autumn festivals. Ancient court music (gagaku) and an archery meet are featured in the spring festival. The paper lanterns gracing the autumn festival are among the largest in Japan.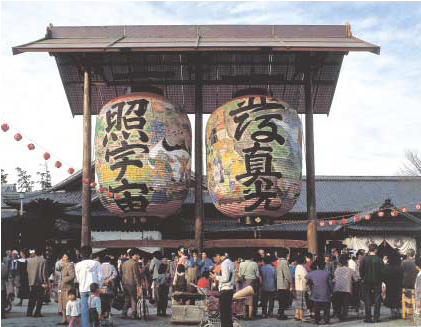 "Map" Myogonji
Location
Access Japan Railways to Toyohashi. Change to the Iida line for Toyokawa Station. Or take the Meitetsu Toyokawa Line from Nagoya Station to the Toyokawa Inari Station. Five minutes' walk.
Address: 1 Toyokawa-cho, Toyokawa, Aichi Prefecture 442-8538, Japan
Phone: +81(533)85-2030
Touring Venerable Temples of Soto Zen Buddhism in Japan